by Grania
Jesus & Mo is being an equal opportunities blasphemer this week. The worshipers of Thor and Atum must be most insulted by this heresy.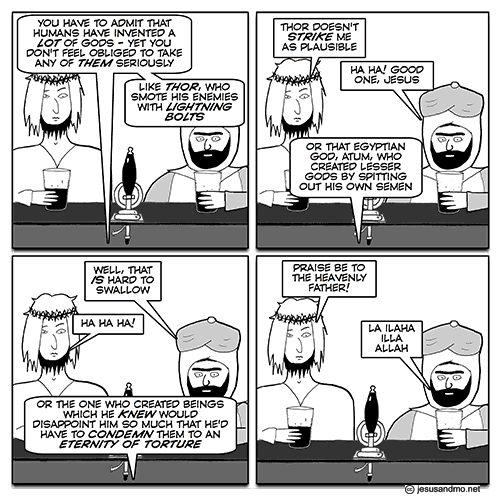 Thor, being a god whose fame has endured into relatively recent times (and not just because of the dude in the comics) is still honored by having a day of the week named after him, had a wife, a lover or two and at least three children and saved the world at Ragnarök where he died, the world was covered by water and two humans Líf and Lífþrasir repopulate the world.
Atum predates Jesus & Mo by quite a bit, as he is mentioned in the Pyramid Texts dating back as far as 2400 BC. He created himself, lifted souls to heaven and was said to be the finisher of the world, when he would return the world to the watery abyss. Wikipedia says this about him:
Atum was a self-created deity, the first being to emerge from the darkness and endless watery abyss that existed before creation. A product of the energy and matter contained in this chaos, he created his children—the first deities, out of loneliness. He produced from his own sneeze, or in some accounts, semen, Shu, the god of air, and Tefnut, the goddess of moisture. The brother and sister, curious about the primeval waters that surrounded them, went to explore the waters and disappeared into the darkness. Unable to bear his loss, Atum sent a fiery messenger, the Eye of Ra, to find his children. The tears of joy he shed on their return were the first human beings.
The gods don't mind a bit of plagiarism, it seems.