by Matthew Cobb
Who doesn't love Jurassic Park? My daughter Evie is inviting her friends round to watch it on Sunday, and we'll project it onto a wall with sound from some decent speakers for them. It will be fab.
Now we all knew the film was fiction, but the science is looking increasingly ropey year by year. There's nowt so old fashioned as previous decades' visions of the future.
And my heartless colleagues at the University of Manchester have gone some way to destroying the dreams of Evie and her pals. First, Bill Sellers showed a few years back that T. rex was a pretty poor runner – it could barely outpace the then global soccerball superstar David Beckham, who was no Usain Bolt. (The exact calculations were T. rex top speed of 17.9 mph, compared to 17.7 mph for Beckham).
Above all, what Bill inadvertently showed was that the jeep would have EASILY outsped (?) T. rex. If you find yourself in a jeep being chased by a T. rex, then just put your foot down. You'll be fine.
Now another group of colleagues, led by 'Spider' Dave Penney (who is also the publisher of Ted Benton's book on Wallace) have destroyed the very heart of Jurassic Park. They have tried to isolate DNA from copal – the resinous 'predecessor' of amber – and failed.
I have been following their work with some excitement, but sadly the results, published today in PLoS ONE, are clear and unambiguous. They had two samples of copal, each containing a stingless bee, one sample from the last few decades (as measured by its radioactivity) and the other from around 10,000 years ago.
Dave worked in a dedicated facility for studying ancient DNA, run by another colleague, Terry Brown. And despite their best endeavours, using the latest 'next generation' sequencing approach, they found no DNA related to bees. Charmingly, they say in the discussion:
"We do not believe that our negative results, from two sequencing libraries prepared from four extracts, can be ascribed entirely to technical incompetence."
Their disappointing conclusion is:
"We were therefore unable to obtain any convincing evidence for the preservation of ancient DNA in either of the two copal inclusions that we studied, and conclude that DNA is not preserved in this type of material. Our results raise further doubts about claims of DNA extraction from fossil insects in amber, many millions of years older than copal."
So. T. rex wasn't that fast, and the whole DNA-from-amber thing looks shakey (never mind the extra bonkers nature of the bitten-by-mosquitoes scenario, or using-amphibian-DNA-to-patch-holes-in-the-sequence business). But what about the 'raptors? Those smart, vicious velociraptors?
You can't blame Manchester for this one, but as the BBC rather soberly puts it: "they were a little less impressive in reality, standing not much taller than domestic turkeys."
So not so much this… …as this
Still scary, mind you – just think of a VERY ANGRY GOOSE with its head at just the right height for beaking your genitals:
Whatever, science or fiction, we still have this end-credits comment from Jurassic Park: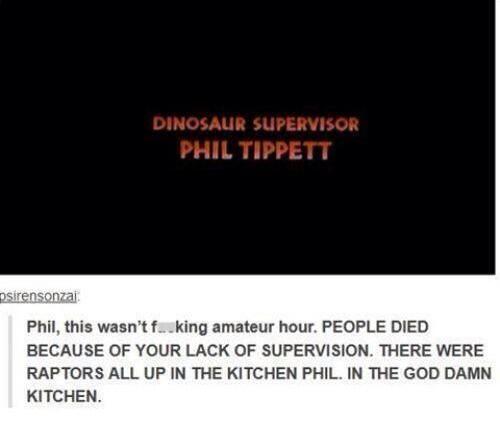 This is very unfair. I don't think it was Phil's fault. The raptors were pissed because Spielberg insisted on having all their feathers removed… Given that there are allegedly going to be no feathered dinosaurs in the forthcoming JP4, I suspect they will all be VERY ANGRY once again.
h/t @smprsn