by Grania & Jerry
Good morning! Jerry is still in transit this morning, and will check in with us later. It's a fine sunny autumn morning here in Ireland.
The first commercial computer to use disk storage,  IBM 305 RAMAC was publicly announced today in 1956. Test units had been in use in the U.S. Navy and at private corporations. It weighed over a ton and had 20 tracks of drum memory which could store about 5MB of data. It was so expensive that it was not produced for sale, but for monthly lease—and a hugely expensive lease at that. How time has changed the computer! It's no wonder that at the time IBM did not think there would ever be a high demand for computers in business, let alone at home.
In 1985 Super Mario Bros. was released in Japan and then in the USA, number two in a seemingly endless series of platforming and racing games. I'm not a fan, but 310 million fans can't be wrong.
Am I the only person who thinks that Mario stole his look from George the handyman in Newhart?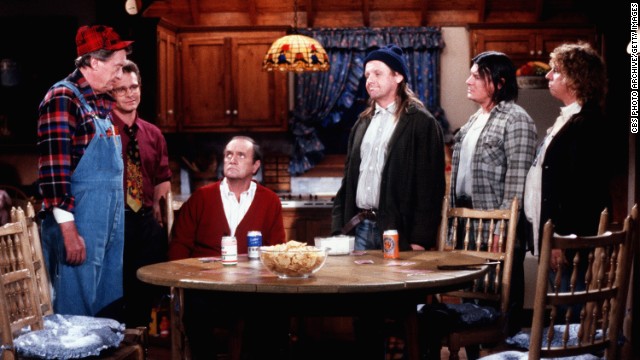 Back in 2008, Hurricane Ike laid waste to Galveston having tracked devastation through Haiti and Cuba first. It went on to cause massive damage over a large area reaching from Louisiana to Texas.
On the birthday front, Joni Sledge (1956 – 2017) from Sister Sledge was born today. Their hit song We Are Family guarantees them their immortality.
Over at the news site kahoku.co.jp, there is a report in Japanese (Chrome will translate it) describing Hiroko Kubota's new embroidery book (featuring Hili on the cover) and reporting on the exhibition in Sendai City of some of her cat embroideries (there's one d*g, too). Here's a photo of the framed Hili embroidery with the translated caption:
The automatic translation says this, which I've copied word for word (my emphasis). Those who can read Japanese might give us an accurate translation of the fate of that embroidered d*g.
Kubota is known for "cat shirt" embroidered on a shirt with the appearance of a cat appearing from his pocket, and the sophisticated and adorable cat is domestically and abroad with many fans.

In the embroidery exhibition, Mr. Kubota exhibited six cats and one dog stabbed for the full-length English masterpiece "The magic process EMBROIDERED CATS" (The Magic Process Embroidered Cats). You can see the delicate coloring and stitching that creates lively facial expressions and patterns, fur coat.
A tw**t after Michelangelo: Ceiling Cat creates Da Hooman:
https://twitter.com/holly/status/907273888358432768
Matthew found this David Attenborough tw**t with a lovely video of kin selection in raccoons; I think it's been on this site before, but the video (and Attenborough's caption) are worth seeing:
https://twitter.com/Attenboroughs_D/status/907510344226152448
Matthew also sent this cute tw**t, although perhaps Maura doesn't know what "nutsacks" means in American English. On second thought, perhaps she does:
My hedgehog had babies last night & they are about the cutest lil nutsacks I've ever seen 💗 pic.twitter.com/Fr2FAugutq

— maura (@painthands) September 11, 2017
And finally on to the busy doings of Poland's most famous cat.
A: Hili, what are you doing here?

Hili: I'm doing traineeship. I'm helping to edit Jerry's website.
In Polish:
Ja: Hili, co tu robisz?
Hili: Jestem na praktyce, pomagam redagować stronę Jerrego.