by Matthew Cobb
The other week I gave a talk at the Ilkley Literature Festival, about my book Life's Greatest Secret. It was a great event – although traffic problems meant I was slightly late, despite setting off with 45 minutes leeway – and was sold out!
Ilkley is a lovely town in Yorkshire, surrounded by fantastic hills and a moor which is the subject of a very well known English song ("Ilkley Moor Bar T'At") which recounts what happens if you go walking on the Moor, and even courting Mary-Jane on the Moor, without your hat on (spoiler: it finishes badly. In worms, then ducks, then the singers of the song…)
This version of the song has the guitar chords, and a transcription, though give it's still in Tyke, you may have a hard time understanding it:
Anyway, it is a little known fact that when The Origin of Species was published, Darwin was not at Down House in Kent, where he lived, but in Ilkley. I learned this because my talk was chaired by Professor Greg Radick of the University of Leeds. Greg is Professor of History and Philosophy of Science, and in  2009 he wrote a slim book called Darwin in Ilkley, which he co-wrote with a retired Professor of Gastrointestinal Pathology and local historian, Mike Dixon. (It's available in the US and in the UK on Kindle – you can also read it with the Kindle app on the tablet of your choice).
Darwin was in Ilkley because of the local water-based health cure, and he was in search of relief from his mysterious debilitating illness, which dogged Darwin throughout his life. Radick and Dixon noticed that when Darwin was in Ilkley, eating a reduced dairy diet in the hotel where he was taking the 'hydropathic cure', his symptoms abated. When he returned to Down House, his malaise returned.
There's a lot more to their story than a simple correlation, and if true, it would not only settle an issue that has concerned Darwin's biographers down the decades – was his disease 'real' or psychosomatic, and if it had a recognisable cause, what was it? – it would also add an intriguing coda to the interaction between the man and his science.
Up until a few thousand years ago, humans did not drink milk after weaning and they did not have the necessary enzymes to be able to digest the key part of milk, lactose – they were lactose intolerant. Consuming milk products as adults would have made them ill.
However, in several communities around the world, which had begun to domesticate mammals, mutations arose which enabled some individuals to digest milk throughout their life. Presumably those mutations had occurred repeatedly in evolutionary past, but there was no animal milk to drink (try milking a mammoth!), so no advantage was gained and those mutated genes were not passed down.
Today, there are important parts of the world where lactose intolerance is prevalent – Japan and China, for example, although it is rare (but not at all absent) in Europe and parts of Africa. This map from New Scientist shows the distribution of intolerance: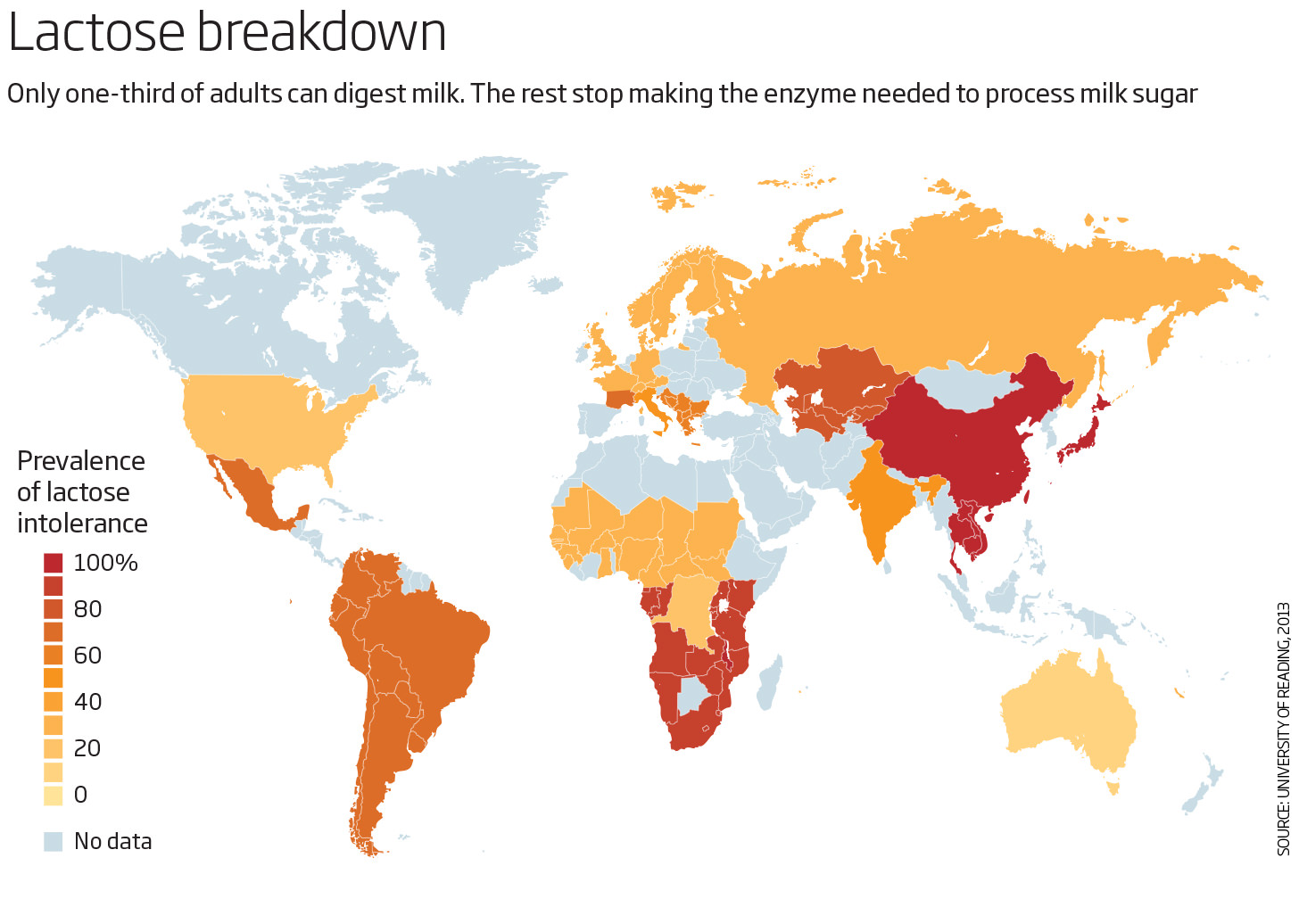 If you want to know more about lactose intolerance, this New Scientist article is pretty good.
Maybe if Darwin had known, he could have made himself feel a lot happier…
.