As you may know, Matthew Cobb's engaging new book, Life's Greatest Secret: The Story of the Race to Crack the Genetic Code, came out in the UK in June, and will come out in the US on July 7.  You might want to preorder it if if you want a cracking good story of modern science, one that takes up where James Watson's The Double Helix left off.
Partly to publicize his book, as well as to call attention to a question that's occupied scientists and science historians for years, Matthew wrote a new piece in the Guardian called "Sexism in science: did Watson and Crick really steal Rosalind Franklin's data?" Several people have answered this question with a "yes," based largely on W&C having calculated the DNA structure using data and photographs produced by Franklin and by Raymond Gosling, her Ph.D. student at King's College. A bit of Matthew's article:
At the end of January 1953, Watson visited King's, where Wilkins showed him an X-ray photo that was subsequently used in Franklin's Nature article. This image, often called 'Photo 51', had been made by Raymond Gosling, a PhD student who had originally worked with Wilkins, had then been transferred to Franklin (without Wilkins knowing), and was now once more being supervised by Wilkins, as Franklin prepared to leave the terrible atmosphere at King's and abandon her work on DNA.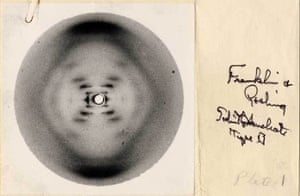 Watson recalled that when he saw the photo – which was far clearer than any other he had seen – 'my mouth fell open and my pulse began to race.' According to Watson, photo 51 provided the vital clue to the double helix. But despite the excitement that Watson felt, all the main issues, such as the number of strands and above all the precise chemical organisation of the molecule, remained a mystery. A glance at photo 51 could not shed any light on those details.

What Watson and Crick needed was far more than the idea of a helix – they needed precise observations from X-ray crystallography. Those numbers were unwittingly provided by Franklin herself, included in a brief informal report that was given to Max Perutz of Cambridge University.

In February 1953, Perutz passed the report to Bragg, and thence to Watson and Crick.

Crick now had the material he needed to do his calculations.
I'll send you to Matthew's article to see his conclusion about the purported theft (and to learn some history of science), but I'll add the comment he emailed me about his Guardian piece:
It's a highly compressed summary of the chapter on the double helix. I was annoyed by comments around [Tim] Hunt that claimed W&C stole her data, which they didn't. Plus I wanted to publicise the book!

The article suffers from not having been proofed/subbed, so there is one use of "data was" that got commenters very cross, a "no question that" which confused some US readers [JAC: this confused me too; what Matthew meant was "it wasn't the case that"], and a Freudian conflation of Watson and Wilkins into Watkins!
I think Matthew's take is accurate, and should pretty much settle the issue; and I also agree that had she lived (she died of ovarian cancer in 1958 at the age of just 38), Franklin should have been awarded the Nobel Prize in 1962 along with Wilkins, Crick, and Watson. Since Nobels can be awarded to only three people in one category, see how Matthew thinks this should have happened.