by Matthew Cobb
Jerry doesn't "get" Twitter. He thinks it's full of people shouting at the TV or ranting abuse at "celebrities" or telling the world about the coffee they are drinking. And so it is. But it's also full of the most magical things. Here's something that popped up in my Twitter feed: I give you Eatoniana plumipes, photographed by Harry Smit:
The highly elongated fourth pair of legs on this weird beast – which is quite hefty for a mite – have these strange feather-like hairs. What on earth might they be for? The original tweeter,Wayne Knee (@whknee), suggested they might be for defence. Other options might be that they release a pheromone (in which case you'd predict that they'd be sex-limited, probably on females), or that they are in some way involved in attracting a host if the mite is parasitic. That suggestion is perhaps indicated by this photo taken by Joaquín Ramírez in Spain (from here).
On the other hand, those long legs seem to make life difficult, as suggested in this photo by Josep Mari Solé from the fabulous Spanish site biodiversidadvirtual. (Josep understandably says his photo "es propiedad de su autor y no puede ser utilizada sin su consentimiento" – I am contacting him to get his approval – he has a few others of this species, so head over there to see; you don't need to know Spanish!).
The Encyclopedia of Life site helpfully says "No facts are available for Eatoniana plumipes in the Encyclopedia of Life."
This one was found on a beach in Corsica by Luc Gizart: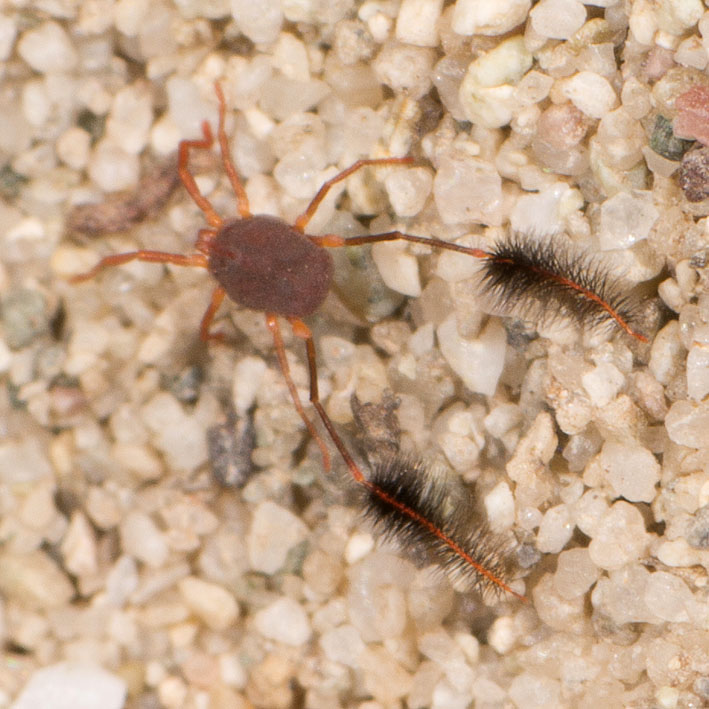 So, come on arachnologists. What on earth are those hairs for?
h/t Morgan Jackson (@BioInFocus)