by Matthew Cobb
The third of the Nobel science awards was announced this morning – it went to two US scientists, Robert J Lefkowitz and Brian K Kobilka, for their work on G-protein coupled receptors. For once, I actually understand some of the science involved. G-protein coupled receptors are a particular kind of cellular receptor that enable us to respond to a wide range of stimuli, including odours (which is why I understand this stuff). Lefkowitz (left) works at  the Howard Hughes Medical Institute and Duke University, Durham, North Carolina, while Kobilka (right) now works at Stanford. Lefkowitz began work on the beta-adrenergic receptor in 1968 and Kobilka joined him in the 1980s; as the Nobel Citation puts it:
The studies by Lefkowitz and Kobilka are crucial for understanding how G-protein–coupled receptors function. Furthermore, in 2011, Kobilka achieved another break-through; he and his research team captured an image of the β-adrenergic receptor at the exact moment that it is activated by a hormone and sends a signal into the cell. This image is a molecular masterpiece – the result of decades of research.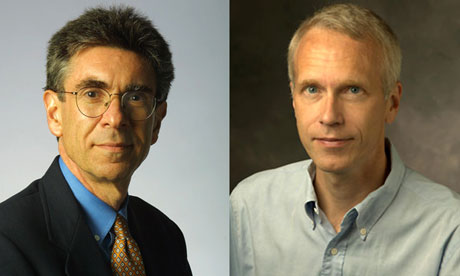 The earliest receptors to have evolved will have worked by the stimulus (or 'ligand') directly opening or closing pores in the membranes of the earliest cells. This will have enabled single-celled organisms to migrate up chemical gradients in the primeval sea. Over evolutionary time, receptor mechanisms became much more complex, and many of the key receptors in your body involve a cascade of biochemical interactions, which begin when a receptor molecule (generally a snake-shaped molecule which wiggles in an out of the membrane) detects the stimulus. The change in the shape of the receptor molecule activates the associated 'G-protein', which is inside the cell and has three sub-units. Changes in the sub-units can then activate other proteins, enabling the cell to respond appropriately, by changing its internal environment, or, in the case of a neuron, by allowing ions to enter, thereby producing a neuronal response.
The amazing complexity of the G-protein coupled cascade – which no designer would ever build – shows the truth of Jacob's aphorism that evolution doesn't design, it 'tinkers'. To give you some idea of what's happening – all in the space of milliseconds – here's a video: