by Grania
Jerry insisted that if I did nothing else while he was away, I should ensure that Caturday was posted religiously. This is an Important Thing. And so without further fanfare, Caturday felids.
The Dodo reports on a cat that may have mistaken a moose for a squirrel. Easy to do, I'm sure. Ginger the cat was eventually disabused of the notion.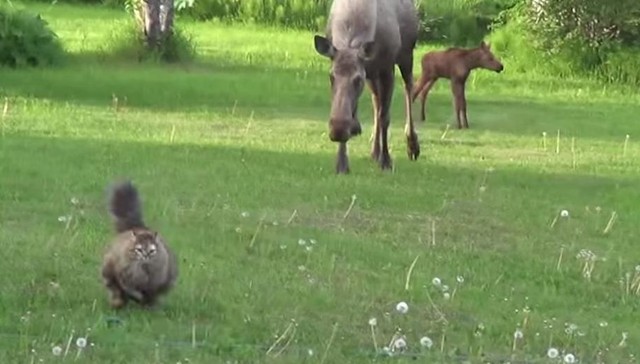 That's at least half a life gone. Click though on the link for a video chronicling the meeting.
*******
The Alamo has a new Official Cat. Her name is Miss Isabella Francisca Veramendi de Valero, which is quite a lot of name for a cat. She has taken up her duties after the previous regent passed away last year. More photos are available if you click through on the link.
*******
In honor of Adopt-A-Cat month Homeward Bound Cat Shelter, Illinois put together a Yoga4Cats video
Of course, it involves humans doing the yoga and cats watching the humans cautiously. It's not done to display too much enthusiasm for anything if you are a cat. Except salmon paste. Or in the case of my cat Trinket, an entire bowl of soured cream intended for human consumption.
*******
And then, just to show that anything you can do I can do better, Cat wins hero dog award!
The cat Tara won the award for body-slamming an aggressive dog who had attacked her autistic 6 year old charge and chased it away.
Here's Tara in action. It's pretty impressive.
Still, cats and dogs can be friends.
h/t: Su, Robin, Lauren, Barn Owl, TF